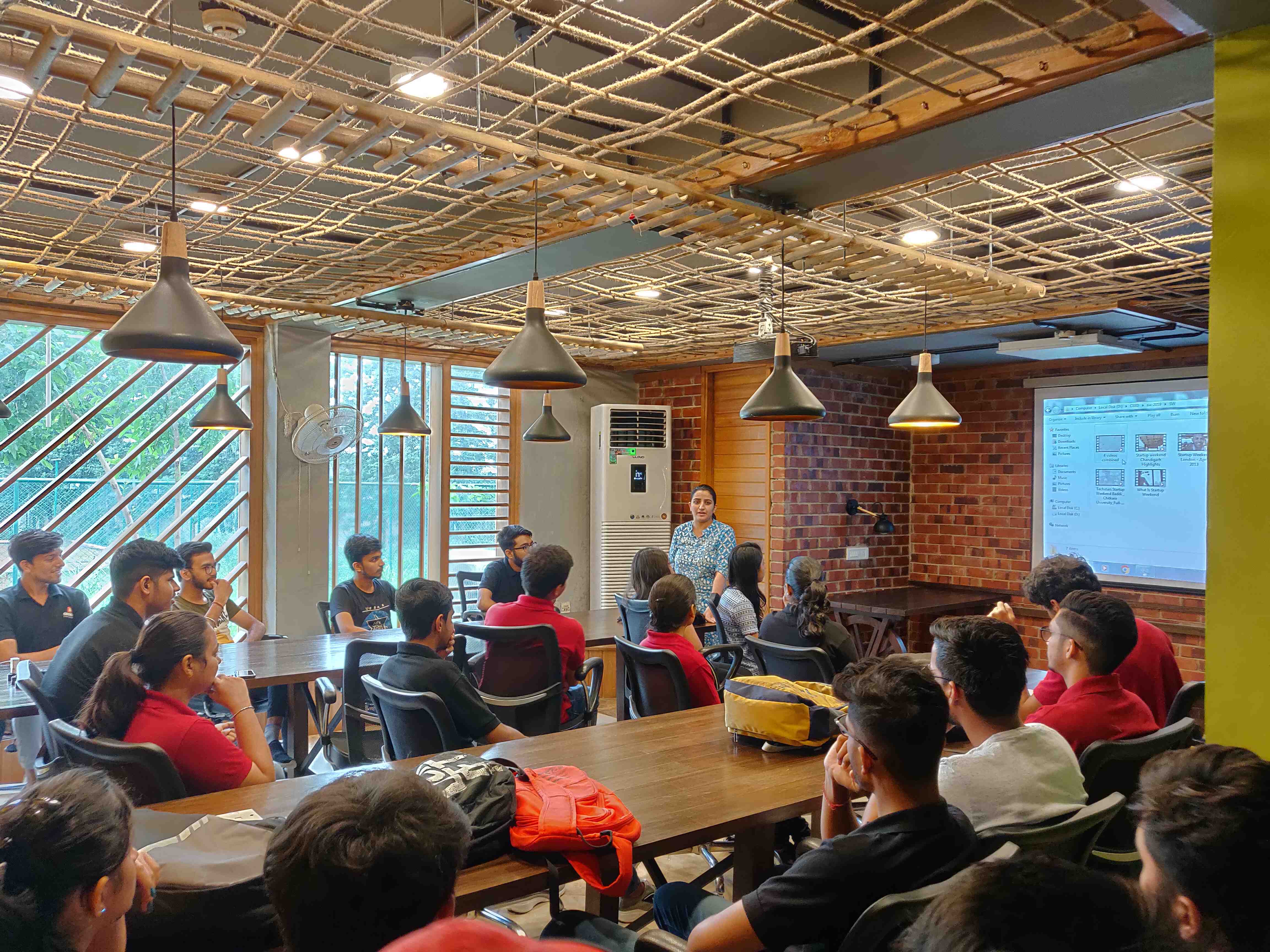 About E-Cell
A CHITKARA UNIVERSITY HP INITIATIVE TO BUILD START-UP ECOSYSTEM
Entrepreneurship cell, Chitkara University Himachal Pradesh aims at fostering the problem-solving abilities and spirit of start-up ecosystem by providing the students with a platform which gives them number of innovative opportunities to develop the Entrepreneur in them. Our entrepreneurship cell provides professional mentorships and other employer opportunities for building an ecosystem for start-ups.
Read More
OUR MISSION
Building strong fundamentals of entrepreneurship
Building Entrepreneurship Ecosystem
Building social and economic environment affecting local and regional entrepreneurship. Serve as incubator for creativity, innovation and ideas.
Facilitate Entrepreneurial Mindset
E-CELL aims at promoting the startup culture mindset in young generation and encouraging the new ideas and foster the spirit among students to change their idea into business.
Networking
E-Cell provides efficient interaction between students, faculty, business enthusiasts with existing mentors, entrepreneurs, venture capitalists and many others.
SUCCESS STORIES
Stories that Inspire Us
CEED launched "CHAI NAGRI" a new Start-up at Square One Chitkara University om 1 August 2018!! The start-up is of two founders Divam Wadhwa an alumnus of Chitkara University, Himachal Pradesh Batch 2014 and Simran, childhood friend of Divam! A new business journey of two friends has begun with this venture "CHAI NAGRI". The start-up was incubated at Chitkara Innovation Incubator for a period of 1 year before the commercial launch for the pilot project!! Currently they have outlets at four locations.
Students of Chitkara University Himachal Pradesh launch a responsive e-bike that has an international market, targeting premium customers. Features include Bluetooth enabled, GPS/GSM, Theft proof, Motion sensitive, Heart rate controlled, Crash detection alert, Cloud connectivity, Keyless operation, Automatic. The bike is made of light Carbon fibre frame having 80 km range with 25km/hour speed and 2-hour charging time. The E-Bike was launched on February 20th,2019 in the college premises with a grand celebration.
EVENTS
Successful Startup events
Startup Weekend Baddi a 3-day overnight event organized by CEED from 21st-23rd September 2018. "Startup Weekend is a 54-hour event that brings together global Startup Powered by Google".
The government of India's initiative setup by the honorable PM has been swiftly marching forward in various cities and regions and states of India. Chitkara University as one of the stops for Startup India Yatra Bootcamp, 26 startup ideas were pitched out of which 16 were shortlisted for Grand Finale.
MENTOR-MENTEE SERIES Vol-1
A new program named mentor-mentee series initiated by CEED. It aims to guide students where external mentor guides them how to focus on the execution of your idea.
WORKSHOP ON SOCIAL ENTREPRENEURSHIP
A highly intense and insightful workshop on "Social Entrepreneurship" was conducted by CEED E-cell. The resource person Ms. Shefali Saluja a distinguished assistant professor at Chitkara Business School holds certification in social entrepreneurship.
A five-day gala celebration of entrepreneurship" Chitkara University, Himachal Pradesh hosted SURGE0.1 on 19th and 20th February 2019. The magnificent event saw a participation of over 700 entrepreneurs, budding entrepreneurs, researchers, faculty, staff & students.
Start-up Day 2019 is the 3rd intra-college event that witnessed 13 finalists pitching in the finals, those were shortlisted from 28 ideas.
MENTOR-MENTEE SERIES Vol-2
After the grand success of Mentor-Mentee Vol-1, Volume 2 was initiated that witnessed Mr. Shivam Gupta CEO Azuratech where he portrayed his idea of entrepreneurship as a mindset and philosophy and also explained organizing and managing business venture along with risks.
A CAP exchange tour to Chitkara University, Himachal Pradesh on 9th August 2019 was organised where CAP entrepreneurs presented their ideas to Vice-Chancellor Dr. Varinder Kanwar. The event witnessed functioning of E-cell of both the campuses and the striking rise of entrepreneurship culture in the region.
CEED conducted its first bootcamp for Startup Weekend Baddi Women at Audi 108 which was witnessed by an interactive audience of more than 70 students. They were acknowledged about the upcoming mega event "Startup Weekend" by putting up a spectacular show with videos and team building activities.
Previous
Next
E-CELL TEAM
Meet The Executive Team
Shraddha Thakur
President, E-Cell
Anshul Arora
Vice President, E-Cell
Saurabh Sharma
Secretary, E-Cell
Pranav Goyal
Executive Member - Intern, E-Cell
Nandini Shahi
Executive Member, E-Cell
Karan Telang
Executive Member, E-Cell
E-CELL MENTORS
Meet The Experts
Sumeer Walia
Director CEED
Ms. Abha Sharma
Senior Mentor CEED
Shivam Gupta
Cofounder at Volumetree
Bhavish Sood
Managing partner at BlueSky Capital Management
Dr. Anjuman Arora Ahuja
Chief Strategy Officer & Head of Business Development – DataToBiz
Aakarshan Sethi
Entrepreneurship Expert
Aaquib Hussain
Creative Head and Director i&We
Mausumi Acharyya
Founder - Advenio - ChironX
Harit Mohan
Founder & CEO, Signicent LLP
Vidushi Malhotra
Co-Founder & Chief Strategist, Ingenious Faces
Shivdeep Brar
Founder & CEO, Agvisi Technologies Pvt. Ltd.
Ritu Singal
M.D Raglan Group, Women Entrepreneur of year 2011
Avelo Roy
MD & CEO, Kolkata Ventures
E-CELL GALLERY
Building Startups